China and Japan Cruise and Tour
Quantum of the Seas - 07th November 2018 - 16nts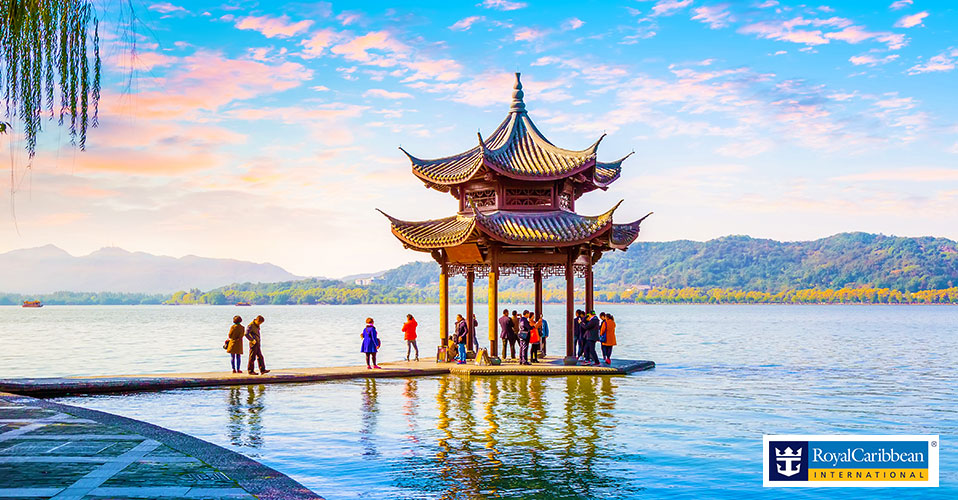 Experience The Great Wall of China With Our Escorted Land Tour Including English Speaking Tour Guide & Selected Meals
Your Ten Day Tour Visits Other Highlights Including Beijing, Zhengzhou, Suzhou & Shanghai As Well As Two High Speed Train Experiences
Includes All Port Fees, Taxes, Gratuites and Food And Entertainment Whilst Onboard Your Cruise
These Exclusive Prices Are Based On Sydney Departures Please Add $250pp for Brisbane & Melbourne
Your Ten Day China Land Tour
| | |
| --- | --- |
| 07th November 2018: Fly to Tianjin | |
Today fly to Tianjin, China via Guangzhou, Shanghai, Chengdu or Chongqing. Please note your flights may be taking day-time or overnight flights to China.
| | |
| --- | --- |
| 08th November 2018: Arrive in Tianjin | |
Welcome to China! Upon arrival at Tianjin Airport, a tour representative will meet you at the airport and then escort you to check into your hotel. Please note that the standard check-in time is 3pm. Please look for a "Cruise1st Australia" pick-up sign at the arrival area.
| | |
| --- | --- |
| 09th November 2018: Beijing sightseeing | |
Your exploration of Beijing begins at Tiananmen Square and The Forbidden City. As the largest city square in the world, Tiananmen Square is the first "must-see" tourist attraction for Chinese and foreign visitors. The Forbidden City, actually a "nick-name" for the Imperial Palace, was the political center of China for almost 600 years, during the Ming and Qing dynasties.
Tonight you can choose to watch the Golden Mask Dynasty show (optional, at your own expense), a large-scale Chinese musical drama showed at OCT Theater in Beijing Happy Valley. It is a fairy tale about wars, royalty and romance. A queen, who wears a golden mask, creates a splendid dynasty. In the years of wars, Golden Mask Dynasty defeat Blue Mask Dynasty. However, the queen declares a total amnesty. The king of Blue Mask Dynasty is moved by her mercy and trust. Soon, they fall in love with each other. Unfortunately, there comes catastrophic natural disaster. The queen scarifies herself to save the people.
| | |
| --- | --- |
| 10th November 2018: Great Wall of China | |
An exciting morning to China's historic symbol – the Great Wall, a monumental feat of ancient Chinese engineering. Once you set foot on the wall, you will be appreciated by this longest, oldest and most labour-intensive projects in mankind's history. En-route stop at a Jade carving workshop to learn about the 5,000-year culture of Chinese jade. On the way back, we will pass by modern exteriors of the Bird's Nest and Water Cube.
Enjoy the remainder of the day at leisure or join an optional Hutong Rickshaw tour with Rickshaw ride and dinner in a local family (optional, at your own expense). These narrow alleyways lined by courtyard residences will give you an insider's look into the lives of local families.
| | |
| --- | --- |
| 11th November 2018: Beijing to Zhengzhou (High speed train experience) | |
This morning make a stop at Tong Ren Tang to learn more about traditional Chinese medicine. Then transfer to Beijing Railway Station for a high speed train ride to Zhengzhou (approx.. a 3.5 hour train ride). Upon arrival pick up from Zhengzhou Railway Station and transfer to the hotel.
| | |
| --- | --- |
| 12th November 2018: Zhenghou | |
Enjoy some free time at leisure today or join an optional lifetime Shaolin Kungfu tour (optional, at your own expense). You will first visit the Shaolin Temple, nestled in the forested mountains of Henan and is the birthplace of Kung Fu and Zen Buddhism. Then continue your visit to the Pagoda Forest, where hundreds of stone pagodas, memorials to past monks, are tightly grouped together in a Forest. You may also have the chance to watch the exciting Shaolin Kung Fu performance at Martial Arts Hall.
| | |
| --- | --- |
| 13th November 2018: Zhengzhou - Suzhou (High speed train experience) | |
After breakfast visit Henan Museum, one of the major museums in China, and the largest center for the collection, protection, study and display of cultural relics in the hinterland of the Central Plain. Then transfer to Zhengzhou Railway Station for a high speed train ride to Suzhou (approx.. a 4.5 hour train ride). Upon arrival transfer to the hotel.
| | |
| --- | --- |
| 14th November 2018: Suzhou to Hangzhou | |
Suzhou, which dates back to 514 BC, is sometimes called the "Venice of the East". Today visit the famous Lingering Garden. The Lingering Garden is a renowned classical Chinese garden and is recognised with other classical Suzhou gardens as a UNESCO World Heritage Site. China is known for its silk, so of course a visit to the Silk Spinning Factory is in order. There is an option to take a cruise along the Grand Canal (optional, at your own expense) to view life along China's ancient waterway. Afterwards drive to Hangzhou (approximately a 2 hour coach ride), where the 2016 G20 Summit was held in September 2016.
| | |
| --- | --- |
| 15th November 2018: Hangzhou to Shanghai | |
This morning start this amazing day with a small boat ride on the West Lake another UNESCO World Heritage Site, which reveals the ethereal beauty of Hangzhou's willow draped islands. Hangzhou is considered the tea capital of China, so a visit to the city just isn't complete without a trip to a local tea house. Make a special visit to the Tea House at Meijiawu Tea Village located at the hinterland of West Lake Park which is considered one of the most important Longjing tea productions in China. Enjoy the natural environment and beautiful village scenery while learning more about their special tea culture and how to appreciate the sophisticated taste and aroma of Longjing tea. At the Tea House, learn how to make the Longjing Tea including tea leaves picking, frying and tasting.
Drive to Shanghai to visit the famous Bund (Approx. 2 hour bus ride). Shanghai is divided by the Huang Pu River into eastern and western sections. Modern mega high rises are seen on the eastern side while traditional European style architecture may be seen on the western side. The Bund is a five-block riverfront promenade with many of Shanghai's banks and trading houses.
Tonight there is an optional activity to watch a superb and thrilling Chinese Acrobatic Show "ERA: The Intersection of Time" (optional, at your own expense).
| | |
| --- | --- |
| 16th November 2018: Shanghai | |
This morning stepping back in time at the Shanghai Museum with more than 120,000 art objects on show. Enjoy some free time at leisure this afternoon or join an optional half-day tour of Shanghai (optional, at your own expense) including Yu Garden, believed to have been built in the Ming Dynasty, more than 400 years ago. The exquisite layout, beautiful scenery, and the artistic style of the garden architecture have made the garden one of the highlights of Shanghai. Other attractions include Xintiandi, Old Town and Nanjing Road.
In the evening, take the opportunity to join the optional "Night Cruise on the Huangpu River" (optional, at your own expense).
| | |
| --- | --- |
| 17th November 2018: Transfer to Port of Baoshan | |
After breakfast transfer to Port of Baoshan for your cruise.
Your Kumamoto & Miyazaki Cruise Itinerary
| | |
| --- | --- |
| 17th November 2018: Embark the Quantum of the Seas in Baoshan | |
Embark the Quantum of the Seas
Located in the northern part of Shanghai city, Baoshan is at the meeting point of the Huangpu River and the Yangtze River. It is the birthplace of Shanghai's port opening, nearly 100 years ago. From the completion of China's first railway to the establishment of BaoSteel, China's largest modern iron-steel enterprise and from the entry of Shanghai University to the holding of Baoshan International Folk Art Festival, Baoshan has developed into an eye-catching district, filled with Chinese history, culture and natural beauty.
| | |
| --- | --- |
| 19th November 2018: Kumamoto (Japan) | |
Home to one of the largest and most complex castles in Japan, Kumamoto is a major city located along the west coast of the island of Kyushu. Offering stunning natural sceneries and rich cultural experiences, Kumamoto is one of Japan's hidden paradises that you won't want to miss. With breathtaking mountain views and premier historic attractions, there are dozens of reasons for travellers to come and visit.
| | |
| --- | --- |
| 20th November 2018: Miyazaki (Japan) | |
Located on the southeast coast of the island of Kyushu, Miyazaki Prefecture is a quiet and relaxing destination. It boasts the second warmest temperatures in Japan (after Okinawa), and it is the ideal place to get off the beaten track, go swimming in the Pacific Ocean and taste the local seafood delicacies. The capital of Miyazaki Prefecture is the city of Miyazaki, a bright and sunny city with a southern resort atmosphere.
| | |
| --- | --- |
| 22nd November 2018: Disembark at Port of Baoshan | |
Disembark the Quantum of the Seas for your flight home. (Transfers are not included here)