Royal Caribbean International has been thrust into the limelight after Channel 7 recorded a special, feature length presentation aboard its flagship vessel, Voyager of the Seas.
Set to air later this week, the one-hour presentation is hosted by three well-known faces, including Tom Williams, Tim "Rosso" Ross and Rachael Finch. It's hoped the program will directly target first-time cruisers, debunking some of the misconceptions related to the cruise industry.
The feature was filmed during the Voyager of the Sea's 10-day cruise, Fijian Delights, and covers all of the ship's amenities including activities, entertainment, on-board dining rooms and a look at the vessel's luxury state rooms.
The trio of celebs ­– themselves experiencing a cruise for the first time – add a dash of humour, style and panache to the programme, something which Royal Caribbean hope will attract a new, younger holidaymaker to consider booking a cruise.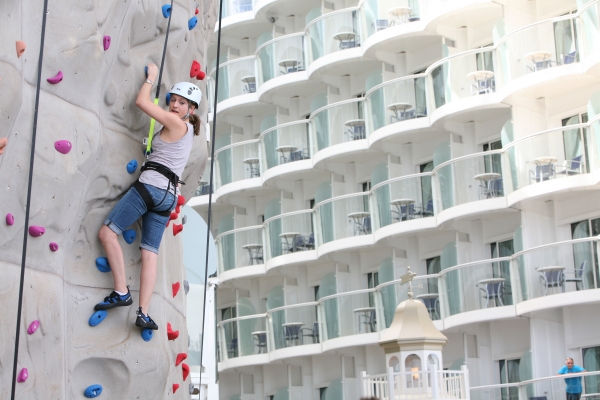 Sean Treacy, RCI Commercial Director, said: "This program really helps show what cruising with Royal Caribbean is like and I think everyone will love it!"
Williams, Finch and Rosso also try Voyager's spa, rock climbing centre and revolutionary FlowRider attraction – a unique surf pool and Adventure Beach on Voyager's spacious deck.
Interviewed after recording the programme, Rosso explained how Voyager of the Sea had opened his eyes to cruising: "I have never cruised before and definitely felt it was not for me – boring and full of old people! But boy was I wrong."
Working together, Royal Caribbean and Channel 7 created the feature presentation as part of a partnership which will later showcase RCI's food offering during cookery show, My Kitchen Rules.
Treacy added: "Cruising is absolutely booming in the Australian market and we have found that those who haven't cruised before have difficulty differentiating between us and the competition and we really do have some very unique, only-on Royal Caribbean features on our local ships."
The one-hour special will be aired during Channel 7's primetime spot on 31st March from 8pm.
Image sourced via Wikimedia Commons, Royal Caribbean Press Center and Flickr Creative Commons. Credit: Royal Caribbean, Darthvadrouw and alachia.