Australia's love affair with cruising shows no sign of abating with almost 1-million expected to holiday at sea in 2015.
The boom has prompted international cruise lines to send a large flotilla Down Under, with around 640 ships visiting Australian ports through summer.
Royal Caribbean's Voyager of the Seas is the largest arrival, with just over 3000 passengers, and is home ported in Sydney for cruises to the South Pacific islands of Vanuatu, New Caledonia and Fiji, as well as to New Zealand.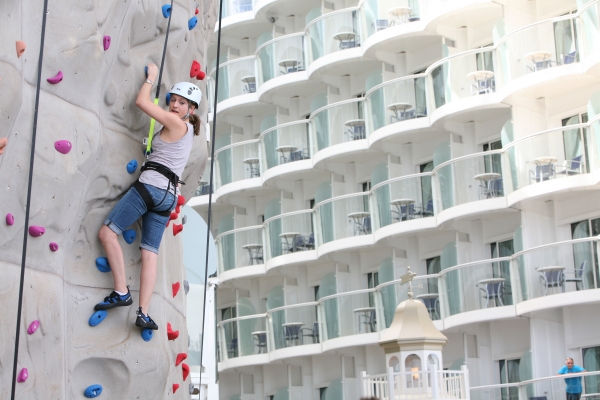 It is a ship with no shortage of on-board attractions from an ice skating rink, rock climbing wall, and a FlowRider that simulates surf waves for sporty types, to a Grand Parade of Dreamworks' characters from the films Shrek, Kung Fu Panda, and Madagascar for family fun.
So why have Australians taken to cruising like proverbial ducks to water?
Much credit goes to road warriors who backpacked along the hippy trail in the 1970s. They are now Australia's cashed up generation, often retired, and still passionate about travel.
They enjoy the finer things of life, and the relaxed pace of cruising that offers so many diverse itineraries across the world, including the latest "hot" destinations still on their "bucket lists".
Favourite destinations for Australian cruise passengers are the South Pacific islands, followed by circumnavigation cruises of Australia and New Zealand. Favoured long haul itineraries are Alaska for abundant wildlife, the Mediterranean for European history and culture, and increasingly the sun-kissed Caribbean islands for an exotic tropical experience.
Australia's cruise industry is ranked number one in the world for market growth and penetration with almost 4 per cent of Australians taking a cruise in 2013. This is a 20 per cent increase on the previous year, and is double the growth of other major cruise markets – Germany and France grew 9 per cent, the USA 3 per cent, and the UK/Ireland 1 per cent.
Brett Jardine, of Cruise Line International Association (Australasia), says that as an island nation Australians have a natural affinity with the ocean and cruises are an integral part of the holiday landscape.
He says, "The dramatic surge in ships visiting our shores has put cruising front of mind and piqued curiosity. Besides, the great value of a cruise holiday – it wraps transport, accommodation, meals and entertainment into one package –  with the ease of unpacking once and experiencing a range of destinations really appeals to Australians."
Images sourced via Flickr Creative Commons. Credit: skyzography, Royal Caribbean.