1300 857 345
Mon - Fri: 9am - 7pm
Sat - Sun: 9am - 5pm
Loading


Cunard Cruise Deals
In 1922 the Laconia set out on Cunards' first world voyage. During the 90 years since the world has changed – yet the wonder of a Cunard World Voyage remains unchanged. Today this thrilling annual event remains a much loved hallmark, just like the prized traditions that distinguish every moment aboard a Cunard ship.


Between January and April 2013 the Cunard Queens trace three epic routes to an array of exciting destinations. From a grand 106 night circumnavigation to a shorter sector you will almost certainly return home with hundreds of photographs and enough favourite moments and travellers' tales to last a lifetime.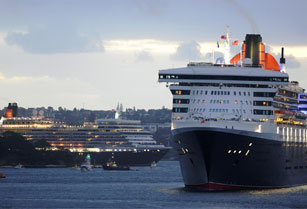 Expect often imitated White Star Service – perfectly attentive though never obtrusive where every request is gladly fulfilled. Within this privileged realm, sublime dining events unfold course by course – a prelude to glamorous evenings on board where magnificent rooms play host to an enthralling whirl of entertainment.


Such is the immense potential for enjoyment on Cunard ships, however much time you spend in their company, you could scarcely hope to experience every pursuit on offer. From the simplest of pleasures like a stroll on deck to exquisite pampering at the spa, you will find life on board offers a whirl of wonderful diversions.


Above all, a Cunard voyage is a remarkably social occasion, a rare opportunity to experience the world with people who share your spirit of adventure, to rekindle past friendships and forge long lasting bonds with like-minded fellow guests.


You are invited to join the voyage of a lifetime – aboard a Cunard Voyage.


These offers are strictly limited, and will sell out. With the Cruise1st difference, our experienced cruise consultants can reserve your stateroom now, even if you need a day or two to ponder your dream holiday. Call us now!


Subscribe to our VIP newsletter by clicking HERE and receive a $50 voucher to redeem on your next booking with us!

See below our top 3 Cunard Cruise deals
Greek Isles and Turkish Splendours - Cruise only
Queen Elizabeth
28th Oct 13, 12nts
Venice - Dubrovnik - Corfu - Athens - Kusadasi - Rhodes - Santorini. - Messina,Sicily - Salerno - Civitavecchia (Rome)
Embrace the magic of the Mediterranean
A$1901
Book Now

Greek Isles and Holy Land Explorer - Cruise only
Queen Elizabeth
9th Nov 13, 12nts
Civitavecchia (Rome) - Katakolon - Santorini. - Rhodes - Limassol - Galilee/Nazareth, Israel (Haifa) - Ashdod - Heraklion - Naples - Civitavecchia (Rome)
Embrace the magic of the Mediterranean
A$1950
Book Now

See below for more cheap Cunard Cruise deals
Cruise1st Australia Pty Ltd is an Australian company with a shop front and registered at 15 Blue Street, North Sydney, NSW 2060. A subsidiary of Sunshine Cruise Holidays Limited registered in the UK at Building 2, Aviator Park, Station Road, Addlestone, Surrey, KT8 1RR. We are specialists in cheap cruise deals around the world.